The automation of production and logistics through robotics is rapidly increasing. Investing in automation can raise a lot of questions and prejudices in work communities. This is especially true if they are not already familiar with robotics. Can a robot replace a human? Will robots steal your job?
A changing world is driving technological progress. Robotics and automation are increasingly present in all our lives in one way or another. Finnish attitudes toward robotics and artificial intelligence have become more positive in recent years. According to a survey of values and attitudes conducted by the Finnish Business and Policy Forum EVA in 2022, the majority of Finns do not perceive machines as a threat to their jobs. In fact, half of the citizens believe that robotics and artificial intelligence will secure long-term employment.
– Nevertheless, certain prejudices still persist. This can be especially true if you don't yet have first-hand experience with robotics or automation, says Matti Tikanmäki, our CEO.
Jobs for people and jobs for robots
One common prejudice is probably still that getting a robot could take jobs away from people. According to the ETLA Economic Research, there is a general concern that robots and other new technologies would take jobs, especially in industry, and displace manual workers in particular. However, the survey results clearly show that investments in technology have improved employment in Finland and enabled companies to continue growing.
– In March, we visited Denmark for the European Robotics Forum 2023, a European research conference on robotics technology. Among others, Michael Fraede presented convincing research on the positive impact of robotics on unemployment rates. For example, the number of robots installed in Germany correlates directly with a reduced unemployment rate. But this is not only the case in Germany, as studies show that this is a global phenomenon, says Maria Ruottinen from our team.
Even today, for example in industrial production and logistics, workers are still struggling with heavy, repetitive, tedious, or even dangerous tasks that should be outsourced to robots.
– We think it would be good to look at it as there are jobs for humans and then there are jobs for robots. The difference between the two can be seen by asking whether this task is humane and meaningful to humans. If the answer is no, buying a robot can be the right solution and improve working conditions, Matti says.
Safer work
Instead of wondering will robots steal your job? it would be good to think about whether all jobs are humane for people. People can be exposed to a wide range of hazards at work – whether in industry, production, logistics, or even in security, surveillance, and rescue. These hazards can include radiation, fumes, dust, extreme temperatures, monotonous/heavy work, or ad hoc risks and stress factors, for example when working in a disaster area.
People who are repeatedly exposed to stress factors at work often suffer, sooner or later, from various work-related injuries, ailments, or illnesses.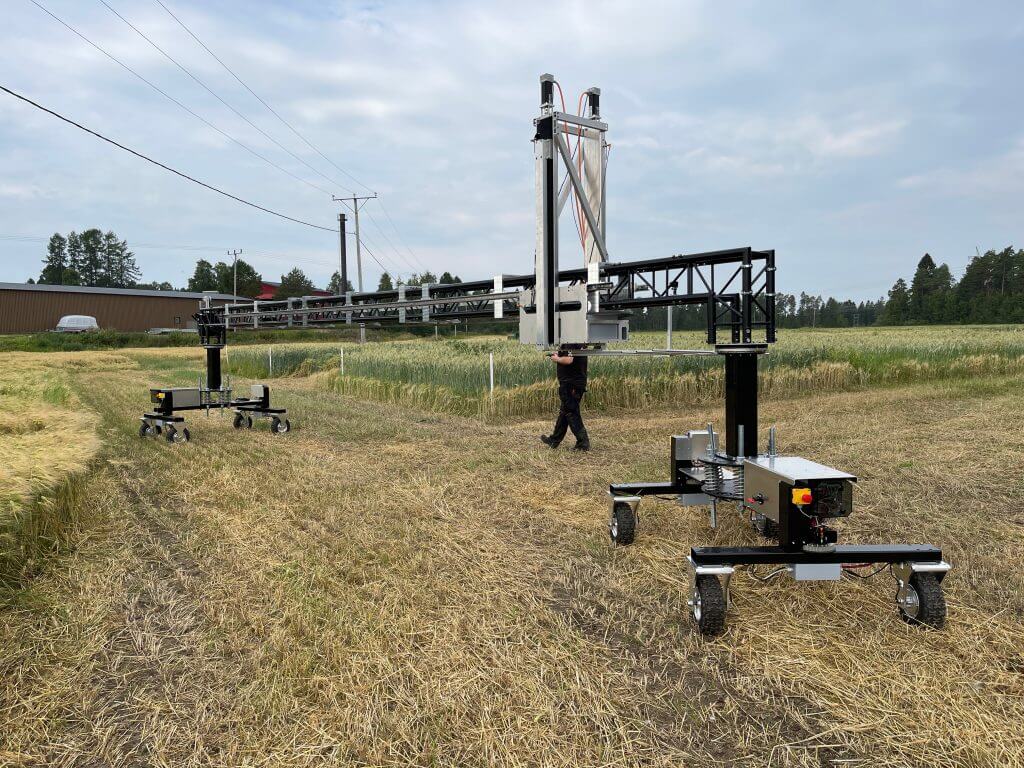 Even if some jobs have traditionally been done 'always' in a certain way, this does not mean that in a modernising world, it is not worthwhile to make use of the options available to optimise work.
– Using robotics to solve stressful and dangerous tasks can significantly improve well-being and safety at work and reduce long periods of sick leave and absenteeism. This is in the interest of both the employer and the employee, Matti points out.
Major benefits of robotics
For example, imagine a situation where there is a repetitive and heavy work phase in a factory. The factory decides to automate this work process with robot procurement. A worker who has been doing the same job for a long time can be transferred to work on quality control and product development of the product to be manufactured. The experienced worker can move from an ergonomically demanding job to more meaningful work and use his or her accumulated know-how on the product. As a result, the worker's safety, job satisfaction, and job meaningfulness are improved. At the same time, the company's product development, productivity, and competitiveness will also improve. In addition, the employee is more likely to be more committed to his or her work.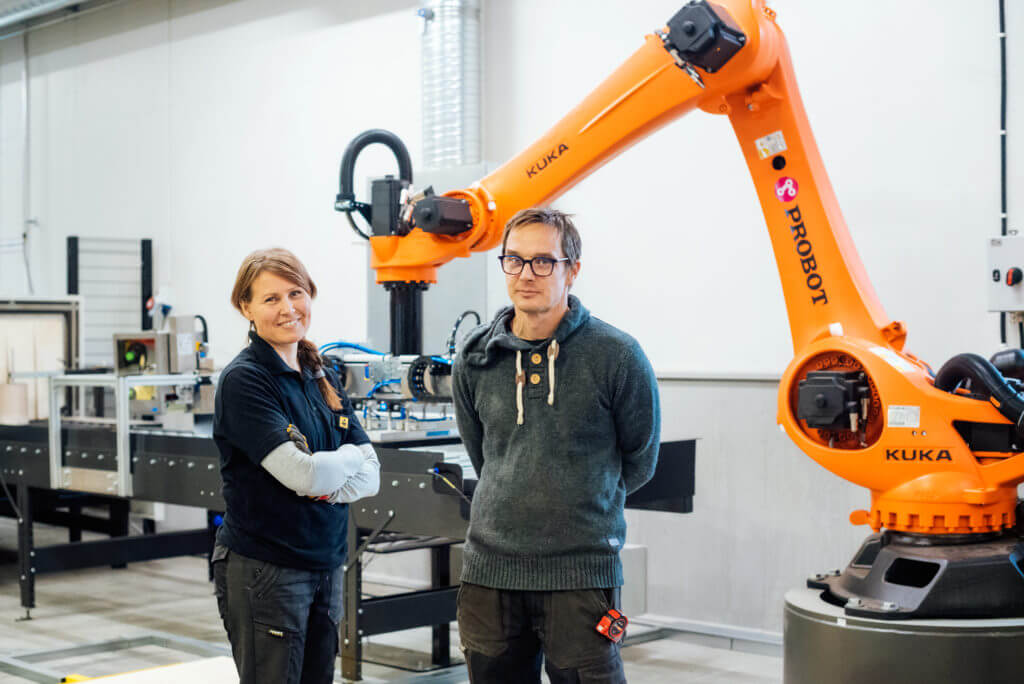 Satu Soronen, a packer at Pattijoki Kalustetekniikka, encourages you to completely abandon any unnecessary prejudices against robots. She has first-hand experience with this. Thanks to the robotic cell we implemented in the company's packaging department, Soronen no longer has to lift component packages weighing up to 30 kg herself for several hours a day.
– A robot is first and foremost a tool for the workers, and it is not stealing anyone's job. There are still other things for people to do because even a robot can't do everything, Soronen says.
Read more about Pattijoki Kalustetekniikka's robot cell project in our blog post "Robot improves work safety and ergonomics".
A robot is not a substitute for a human
Despite the fact that robotics is developing at a rapid pace, there are still a large number of tasks where a human cannot be replaced by a robot. These tasks usually require critical thinking, emotional intelligence, a high level of creativity or fine motor skills.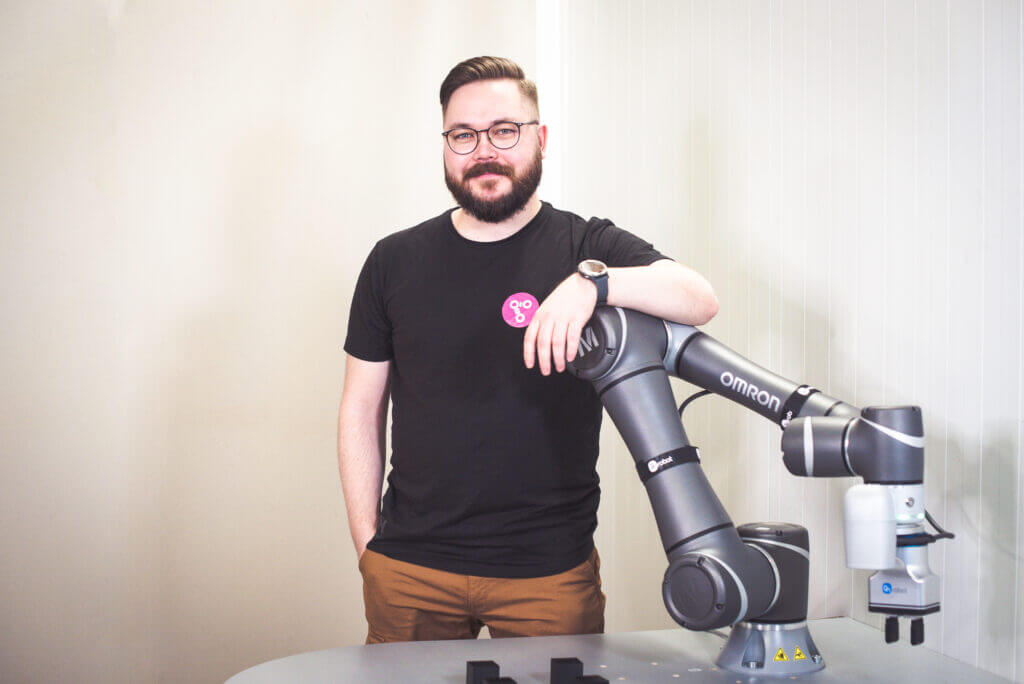 While robots can help with many tasks, they are no substitute for humans – nor are they meant to be. According to an ETLA study, technology investments in Finnish industry are not aimed at cost savings by reducing the workforce. Instead, new technology jobs are primarily aimed at improving the competitiveness of the company and enabling growth. Jobs have always disappeared, but recent trends and experience from previous major technology upheavals suggest that a wide range of new jobs are emerging to replace them.
– It's worth bearing in mind that replacing one job creates work elsewhere, Matti points out.
Machines do not make people redundant. Above all, they enable workers to focus on their specific skills. Robots are therefore particularly useful for automating tasks that waste human potential.
– This is also one of the reasons why we think there are human jobs and robot jobs.
Employee involvement pays off
More generally, any resistance to change and reform is often due to a lack of information. If the attitude of the work community towards technological investments is hesitant, it is even more important to involve employees in the purchase of a robot at the planning stage. This is a good idea in any case, as production workers know best how and where to use the robot. Consultation and open discussion with staff will help to identify needs, prevent resistance to change and reduce the friction of transition to a new way of working. Involving employees in the automation process from the start is guaranteed to make it not only more profitable, but also more meaningful for them.
– The transition to robotics and automation should start with a task where the robot is most likely to work and prove its worth, Matti advises.
With successful sourcing, workers often start to think about more tasks where production can be further automated and optimised.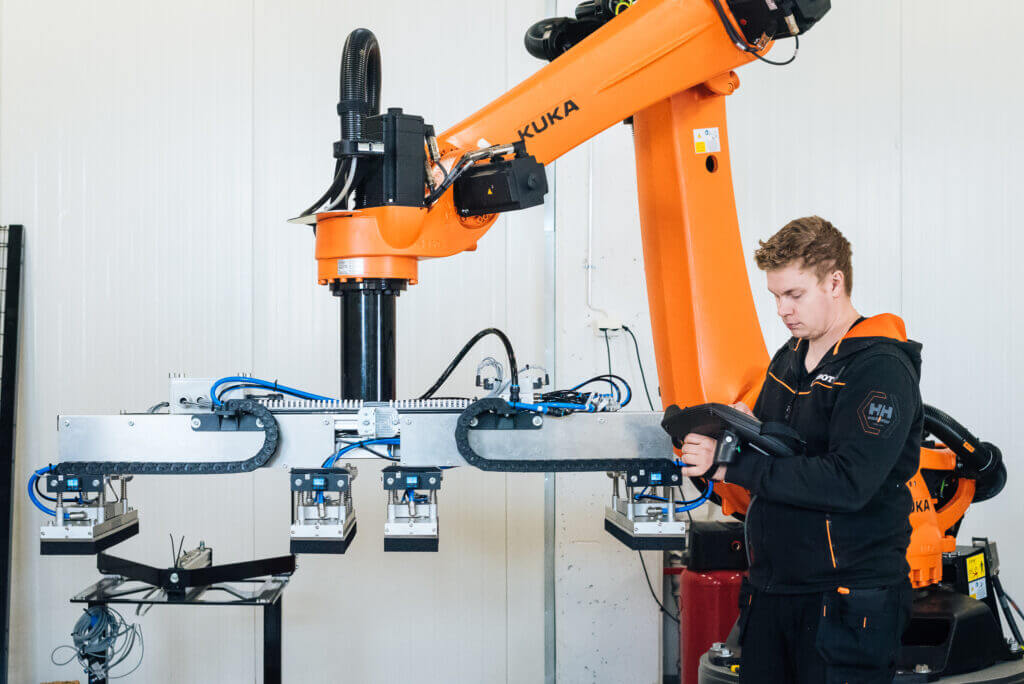 Robots help people
One of the guiding principles behind the creation of Probot has been to make work enjoyable for everyone – both in-house and under the clients' roof.
– We still stand behind this idea. We believe that technology can be used for almost anything and has the potential to solve the challenges of working life in many, even traditional areas, Matti says.
– Moving certain tasks to robotics and automation will allow workers to have more meaningful and humanised jobs, where they can better use their potential, talents and know-how. New production solutions also help companies to make the most of their resources and increase their competitiveness.
So what is the answer to the question "Will robots steal your job?". Robotics is certainly not about taking jobs away, but about creating new ones by making work more meaningful and profitable. The role of the robot is to work alongside humans and act as a tool to make work processes easier and more human.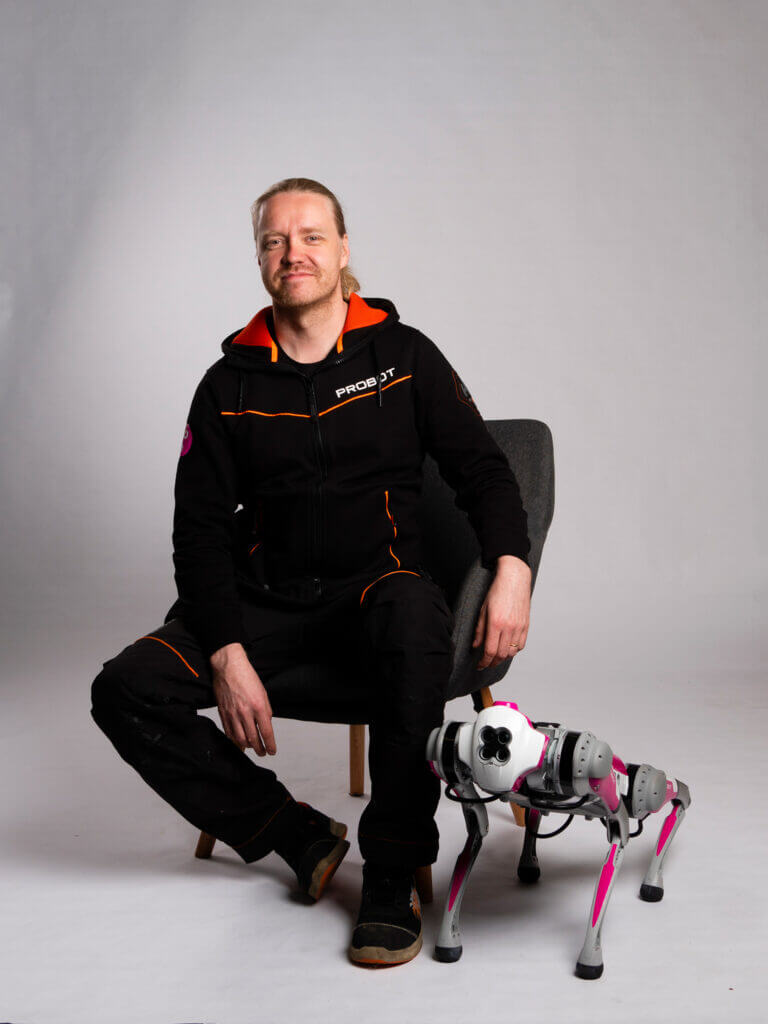 Summary – Will robots steal your job?
Robots do not take jobs, but contribute to the creation of new jobs.
The role of a robot is to work alongside humans and act as a tool to make people's jobs easier.
In our view, there are human jobs and robot jobs. Robots should be harnessed for jobs that are stressful or dangerous for humans and/or that waste human potential.
Acquiring a robot frees people for more meaningful, more creative tasks where they can make better use of their potential.
For these reasons, the safety, well-being and commitment of workers can be improved, reducing long periods of sick leave and absenteeism.
New production solutions also help the company to get more out of its resources, thus increasing productivity and competitiveness.
New technologies lead to increased employment. Investment in technology allows a company to continue to grow.
When the transition to robotics and automation starts with the task where the robot is most confident and proves its worth, workers are easily inspired to think of more tasks where production can be further optimised through robotics.
We believe that technology can bend to almost anything. That's why it has the potential to solve workplace challenges in many, traditional sectors.
Could the purchase of a robot be necessary and timely in your case? Give us a call and we will identify the right robotics solutions for your needs. Let's make a better workplace together by bringing robots into the work community!
Probot Oy – Specialist in Robotics.
External sources (in Finnish):
Hirvonen, Johannes, Stenhammar, Aapo & Tuhkuri, Joonas (11.4.2022). "Teknologian vaikutuksista työn ja taitojen kysyntään". ETLA Muistio No 108. Viitattu 16.3.2023 https://pub.etla.fi/ETLA-Muistio-Brief-108.pdf.
Kauhanen, Antti, Maliranta, Mika, Rouvinen, Petri, Vihriälä, Vesa 2015. Työn murros – Riittääkö dynamiikka? Helsinki: Taloustieto Oy. Viitattu 20.3.2023 https://www.etla.fi/wp-content/uploads/ETLA_B269_Tyon_murros_kansilla_high_res.pdf.
Kurronen, Sanna 10.8.2022. Robotti, ystäväni. EVA Arvio no 40. Viitattu 16.3.2023 https://www.eva.fi/wp-content/uploads/2022/08/eva-arvio-040-1.pdf.