Mobile robots are part of the modernizing world. With the automation and optimization of production, heavy and repetitive jobs are outsourced to robots. In this way, people are freed for more humane and creative tasks. But what are mobile robots and what are they used for?
A mobile robot is a robot that can move autonomously in its environment. Useful mobile robots are designed to optimize processes that are dangerous or repetitive for humans.
"Including robotic locomotive abilities significantly extends the robot's applications: in the extreme case, the robot will be able to access the entire air space, terrain and, in increasing amounts, bodies of water." Matti Tikanmäki sums up.
The sizes of mobile robots vary from coffee packets to excavators. Mobile robots moving on the ground are equipped with wheels, tracks, or legs. In addition to carrying goods, they can push various carts and pull wagons. When moving, the robot can create a map of the environment, and a tablet or computer can be used to help it navigate. Often, the robot is programmed to autonomously follow certain routes by which it performs various tasks. Tasks can be, for example, transporting goods and exporting empty packages to specified locations.
Mobile robots are also making their way into consumers' daily lives. Robot vacuum cleaners and lawnmowers, as well as photography helicopters flying in the sky, i.e. drones, have quickly become common. Perhaps you have also seen news of a robot doing food deliveries? All these devices are mobile robots. Most people are already familiar with mobile robotics, even if they don't immediately recognize the term. So far, the most common mobile robots in the industry are box-like robots mainly intended for transportation, mostly used in indoor logistics. In this case, the task may be, for example, transporting finished products to the warehouse. Mobile robots are also becoming more common in agriculture, for example in farming automation and logistics. There are countless uses and targets, and in the future, you may come across mobile robots more and more often. Did you know that the robot dog also belongs to the family of mobile robots?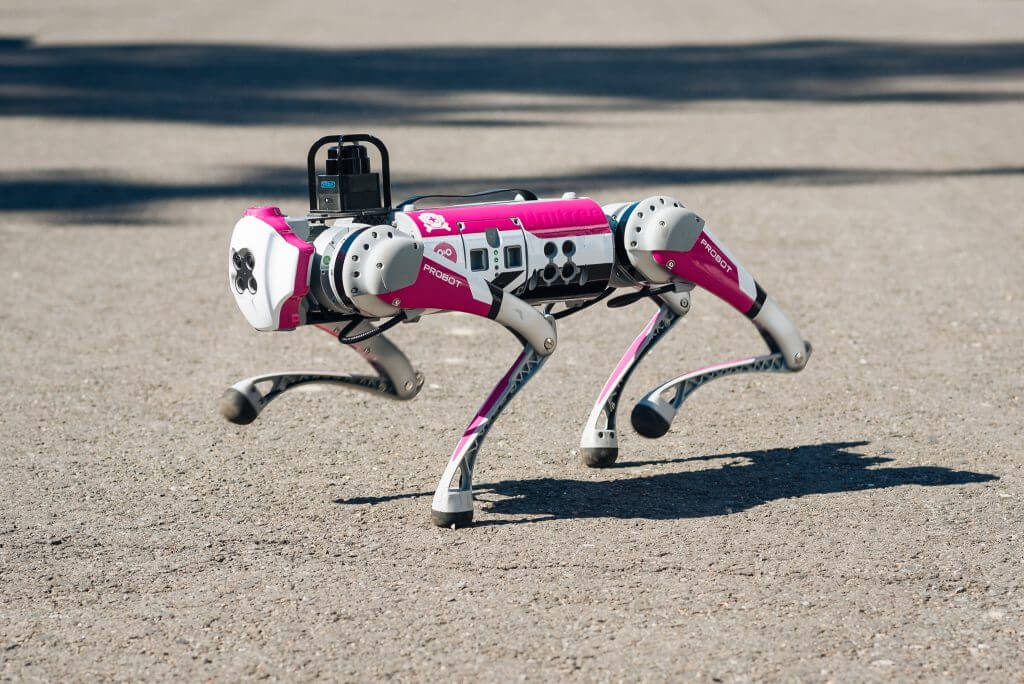 Using mobile robots
Various sensors that enable the ability to perceive the environment, such as cameras and lasers, can be installed on mobile robot. Thanks to them, mobile robots know how to dodge obstacles and people. Therefore, the robot does not necessarily need to organize its own space or corridor but can work in common spaces with employees. Although the mobile robot can dodge obstacles, it may not be able to move them. The factory must therefore have employees who are familiar with the use of the mobile robot. Human help may be needed, for example, in a situation where there is an obstacle in the robot's path and there is no detour.
You may think that a mobile robot is too difficult and complicated to use. Actually, learning to use most mobile robots is fast and easy, and it's worth training several employees on it. Robot programming includes teaching it paths and tasks, and you can add new ones or delete them as necessary. As a result, you can use a mobile robot for many different tasks based on your production needs.
The robot system can be integrated into production, and automation enables the robot to perform tasks in the desired order. The robot operates around the clock and recharges itself when its battery is running low.
Good results with robotic procurement
With the help of mobile robots, as well as other robotics and automation, people can be released from too dangerous and time-consuming work tasks to more humane ones. Fewer and fewer apply for work that is too heavy and repetitive. Automation and optimization of production has a positive effect on the employees well-being, ergonomics, and the production efficiency.
Employees repetitive strain injuries and sick leaves can be significantly reduced when the heaviest work tasks are transferred to a robot. Agile and durable mobile robots can work every day of the year around the clock. A mobile robot can therefore pay for itself very quickly. Regular maintenance and following the maintenance instructions ensure the robot's operation in the long term.
MobileProbotics
At Probot Oy, we offer the design and manufacture of mobile robots and the integration of Omron's mobile robots into production. We are also a retailer of Unitree's robot dogs in Europe. We are happy to work as your partner if you want to explore the possibilities of mobile robotics in your operation.
One of the customized mobile robot platforms we manufacture is in research use at the Technology Research Center VTT. The robot is designed for trajectory and route research, and used in researching and testing various movable technologies. For one of our customers, we also integrated an Omron mobile robot to handle factory logistics between testing and production. The robot transports carts into which the materials are loaded in the warehouse. The user interface of the mobile robot was implemented according to the customer's wishes. Read more on the References page.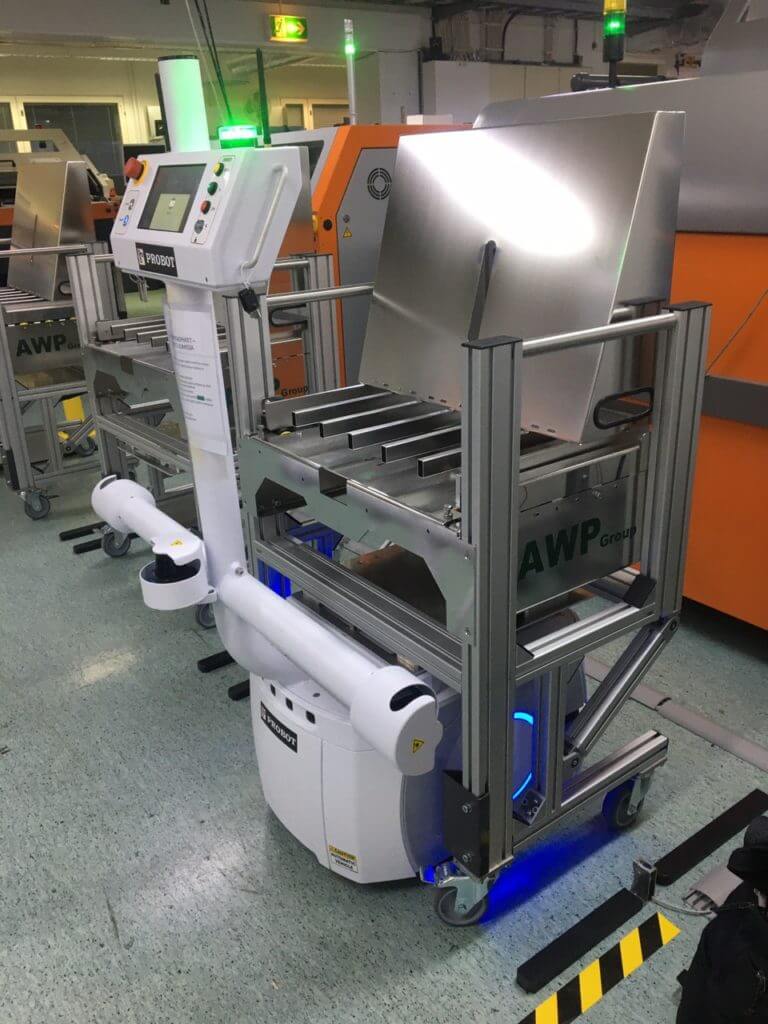 Could you benefit from mobile robotics?
Getting a robot is a good idea if your production process includes tasks that humans find monotonous, repetitive, consuming and heavy. If the aim is to improve accuracy, speed and even quality and promote well-being at work, you're sure to benefit from a robot. You should think about which tasks you could designate for the robot and which ones would allow you to make use of your employees' potential in a more humane way.
Depending on the content of the automated task, we can recommend a mobile robot, industrial robot or cobot (see our blog post: Collaborative robot or industrial robot). Here at Probot, we create robotics and automation solutions tailored to your specific needs.
Probot Oy – Specialist in Robotics.