Probot Oy is the distributor of Unitree robot dogs in Finland. This summer, our summer interns are making robot dog videos for the social media channel TikTok.
On Monday (7.6), three young summer job voucher holders started at Probot, where they were assigned to create TikTok videos. The youngsters will come up with the ideas, shoot and edit the videos themselves, but will also receive help and support from other Probot staff, for example in moving to filming locations and obtaining filming permits. The first filming trip attracted a lot of attention, with people passing by flocking to admire the robot dog.
According to summer workers Juuso and Annika Tikanmäki and Joona Tomperi, shooting TikTok videos as a summer job has been fun and quite enjoyable. Ella Anttila and Elli Heikkinen, who joined the filming team a week later, say that the coolest thing about summer work has been learning to use a robot dog. The best part was getting to work with a good friend.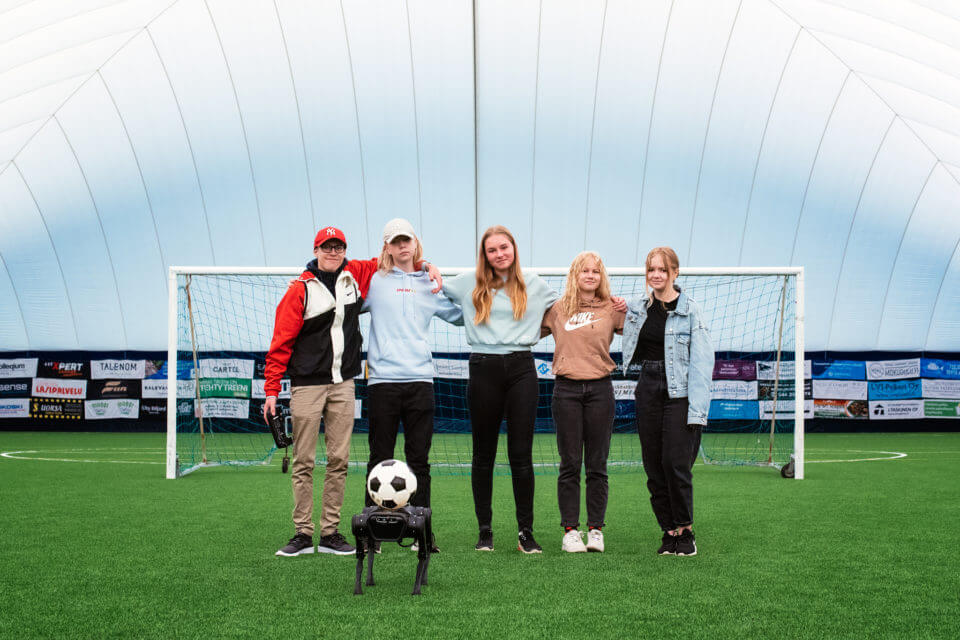 Probot Oy's summer workers Joona Tomperi, Juuso Tikanmäki, Ella Anttila, Elli Heikkinen and Annika Tikanmäki.
As producers of the next generation of robotics, we also need to be well informed about the next generation of workers! We wanted to hire these young TikTok experts to do the kind of communication they know, says Matti Tikanmäki, CEO of Probot Oy.
11 videos of the robot dog pooping screws have now been published, and some of them feature Oulu sights such as Toripoliisi and Nallikari beach. The most popular of the videos has already collected well over 405 000 views since its release (11.6).
The first video was released on 10.6 and can be viewed here.
Robot dog
Brand: unitree A1
Name: Bisgi
TikTok: BadProbotDog