We have been involved in designing the equipment for the functional workshop, Bottila, at the Oulu Art Museum's SUPERNATURAL exhibition, in collaboration with the art museum and Tietomaa employees. We also reprogrammed one of our robots and donated it to Bottila for the duration of the exhibition. Without Markus Alves Bento, our trainee, we would not have been able to get involved in this interesting project.
Markus, who joined us in November through Youth Friends Ltd., started out working with 3D modeling. In joint mentoring sessions with Markus, his Resiina supervisors, and workplace supervisor Matti Tikanmäki, Markus' interest in working at the Luuppi Museum and Science Centre was discussed. Luuppi includes, for example, the Oulu Art Museum and Tietomaa.
Matti found out about possible projects that could benefit from Markus' expertise and interest. Through these contacts, we learned about the upcoming exhibition at the Art Museum. Markus was given a task of his choice, and we all got to discover a project that was a little out of the ordinary.
SUPERNATURAL is an international contemporary art exhibition that primarily focuses on hyper-realistic sculptures, but also includes videos and photographs. The exhibition explores themes related to humanity's future and the relationships between humans, other living beings, and technologically created entities. Adjacent to the exhibition is the Bottila, a space where visitors can explore the creation of imprints using a variety of kinesthetic and programmable devices. Visitors can produce imprints using their own hands, as well as instruments or mechanical devices.
In early spring, Markus and Matti met with representatives from the Art Museum and Tietomaa to brainstorm different devices for creating art at Bottila. From the various proposals, they selected a pendulum plotter that Markus had devised from an old delta robot that had been stored in our warehouse. Before the robot could be repurposed, it required some refurbishment. This robot, which our employees had built in 2014 for testing circuit boards, was restored and reprogrammed to function as a plotter. We are donating it to the art museum for the exhibition under the new name 'Artinator' to honor its new role as an artist.
Watch the video to see how Artinator draws the user into the machine based on selected characteristics.
Markus built the pendulum plotter in collaboration with a Tietomaa employee at their workshop. This device produces prints on paper using a marker and a mechanical pendulum motion, and its pattern can be altered by adding weights to its swinging drawing surface. Markus has played an active role in organizing the Bottila exhibition, testing the equipment, and working with the art museum and Tietomaa staff. Alongside them, he has developed a circuit assembly task for a Muksubox, which is available for the exhibition visitors and includes activities related to some of the artworks on display.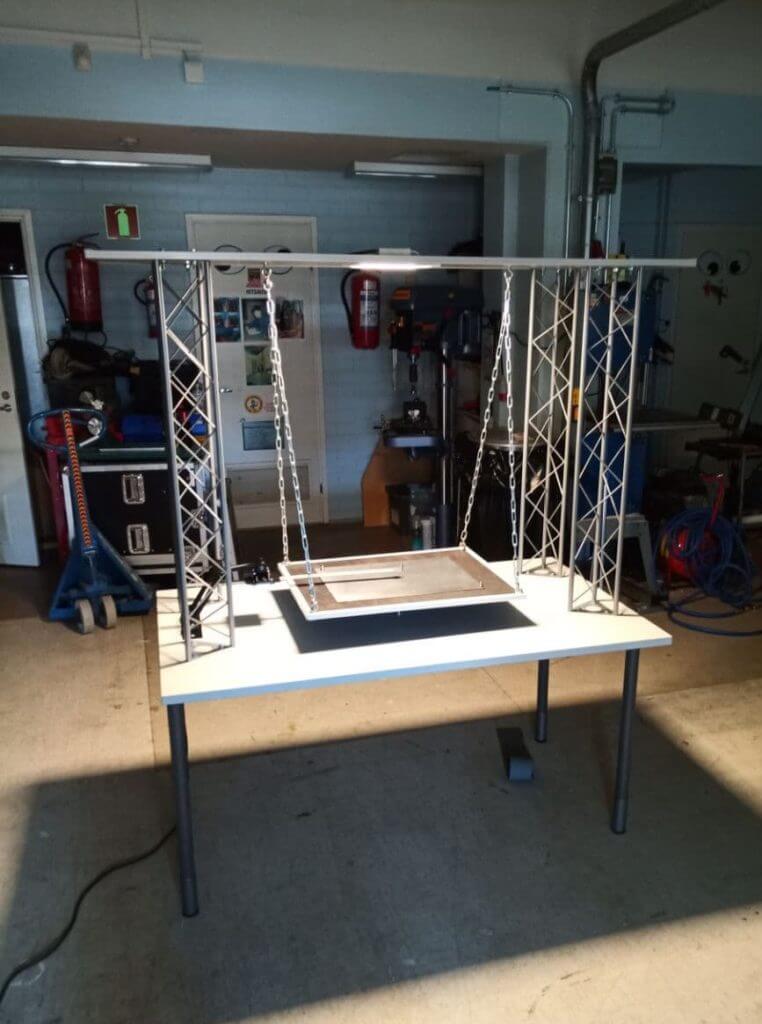 A newly completed pendulum plotter designed by Markus in the Tietomaa workshop.
The SUPERNATURAL exhibition is open until 17.10.2021 at Oulu Art Museum. You can try out the drawing tools and equipment in the Bottila every day from 13-14 and 15-16 and on Sat-Sun from 11-12 (check the opening hours on the Art Museum's website). The number of people allowed to enter the Bottila at the same time will be limited, depending on covid restrictions.
Come and see what kind of piece you'll be, drawed by Artinator, and what different patterns you can create with Markus' plotter!