Robot dog paws at the top of technology
A robot dog is not just a robot dog. It's walking mobile robotics, whose future uses we've only seen a fraction of.
We are honored to represent Unitree Robotics products in Europe. In the constantly growing selection, you can find products from consumer versions to weather-protected industrial versions. Unitree's products are excellent development platforms for, for example, institutes that want a quick start for their walking robotics research.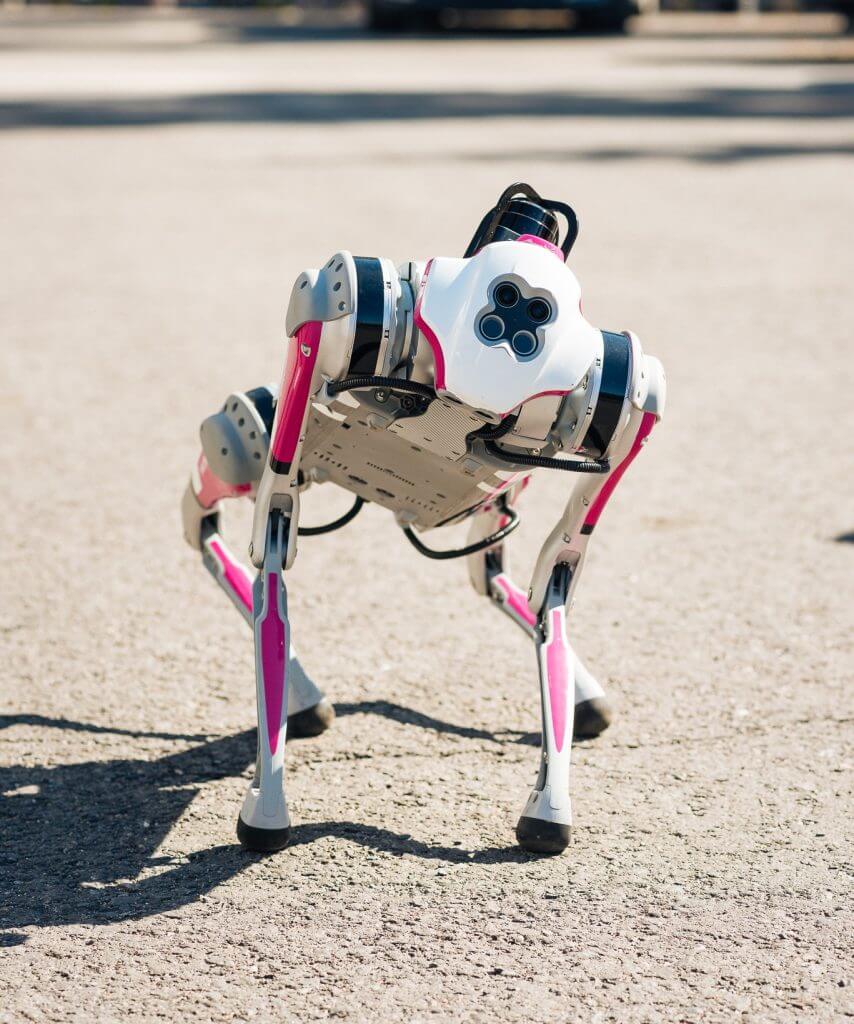 Unitree Go1 Pro
Excellent performance
The Unitree Go1 Pro robot dog is light and compact, but it has excellent performance. With the help of top features, you can use the robot dog for exactly the purposes that suit you.
 maximum speed 12.6 km/h
 weight 12 kg
5 pairs of fisheye cameras
 smart tracking feature
Unitree Go1 Pro
Features
The versatility of the robot dog is based on features that can be widely used. In addition, you can program the robot dog by yourself.
Program the robot dog
In addition to the dog's default settings, you can program it yourself for the purposes you want.
5 pairs of fisheye cameras
With a total of ten fisheye cameras the robot dog observes its
surroundings.
Tracking feature
Thanks to the intelligent tracking system, the robot dog walks by your side, for example when jogging.
Avoid obstacles
The robot dog can detect and avoid obstacles on its own.
Get to know our office dog
#BadProbotDog
Did you see our robot dog or the #BadProbotDog sticker somewhere? Perhaps you want to check what's poppin' with robot dogs?
You can follow the antics of our adorable office dog on our social media channels! You can find the robot dog on social media with the hashtag #BadProbotDog.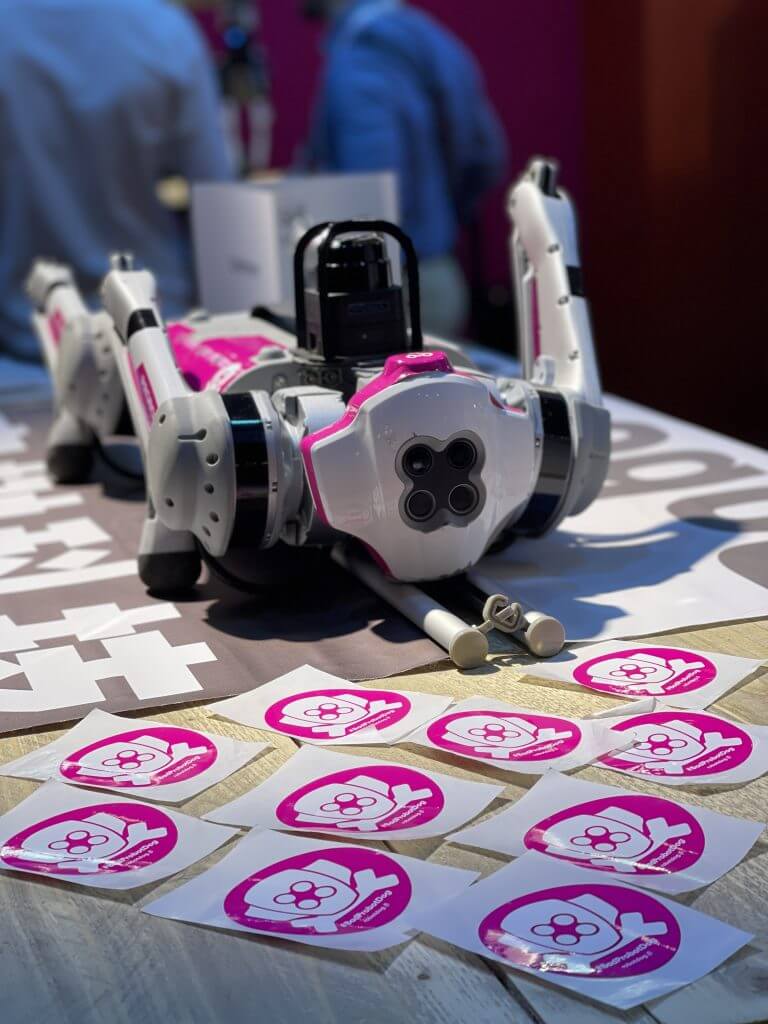 Frequently asked questions about the robot dog
Robot dogs can be used for many different purposes. Industrial uses include, for example, indoor and outdoor logistics. In particular, the B1 model can organize various logistics tasks in uneven outdoor terrains. It could be used, for example, in disaster areas for temporary and automatic logistics.
Robot dogs can also be used in various guarding tasks. Practical advantages in guarding fences and areas and in other guarding rounds include e.g. scheduled functions and collecting data from the environment.
When the robot dog is equipped with different sensors, it is possible to use it in different inspection rounds, such as automatic and timed inspection walks. With inspection walks, you can examine the characteristics of the environment, such as gas concentrations and fire gases.
Robot dogs can be used for various positioning tasks. Areas can be "raked", in which case the robot dog aims to find certain objects in the desired area and indicate their location. Such tasks include, for example, positioning tasks related to guarding duties or mapping tasks of accident areas.
With a total of ten fisheye cameras, the robot dog observes its surroundings. It uses cameras, for example, in the Intelligent Side-follow System. The camera image can also be monitored through the application on a phone or tablet screen.
Two of the cameras are located on the front as "eyes". In addition, there are cameras on the robot dog's jaw, stomach, and sides.
Controlling the robot dog is done with a controller with different functions. You can also place a phone or tablet in the middle of the controller and monitor the robot dog's field of vision and movements. The robot dog can also be programmed to walk independently. The best thing about a robot dog is its ease of use. Steering can be compared, for example, to playing on Playstation or steering an RC car.
In addition to the dog's default settings, you can program it yourself for the purposes you want. Both upper-level control, which covers the entire robot's movement, and lower-level control such as joint movement and walking routines can be programmed. The programming language is c++ and you can find programming examples on Github.
The prices of robot dogs vary from 3,000 euros to 75,000 euros, depending on the model and additional parts.
Contact us
Interested? Call Matti!