Buy a robot dog!
Unitree robot dogs are now also available in Finland!
Are you interested in programming a robot dog or utilizing it in a research or educational institution? In that case, ask us for more!
Unitree Go1 robot dog is also suitable for you who want a ready-made package without any coding skills. However, it is also possible to program the robot dog yourself.

Why a robot dog?
When cell phones came to the market, they caused a lot of confusion. People were used to doing business via landline, and it didn't seem necessary to carry the phone with them. However, mobile phones quickly broke through. Smartphones also caused a similar confusion a little later. We were so used to the fact that the phone is just for calling and sending messages and other functions did not seem necessary. However, the breakthrough of smartphones happened very quickly. Today they are an essential part of our daily lives – and they are constantly evolving! Would we even get along without them anymore?
This same phenomenon also applies to the robot dogs. We are once again on the eve of a new technological breakthrough. At the moment we can only guess how many different ways we can utilize robot dogs in the future.
We are really happy to be at the forefront of technological development bringing robot dogs in Finland! Currently Probot Oy is the only retailer of Unitree robot dogs in Finland.
Unitree Go1 robot dog
"Go Wherever You Will Go"
Light and compact – and yet high performance! Max speed even 17 km / h.
Unitree Go1 robot dog walks alongside wherever you will go.
Robottikoira Unitree Go1 Air, Pro ja Edu specification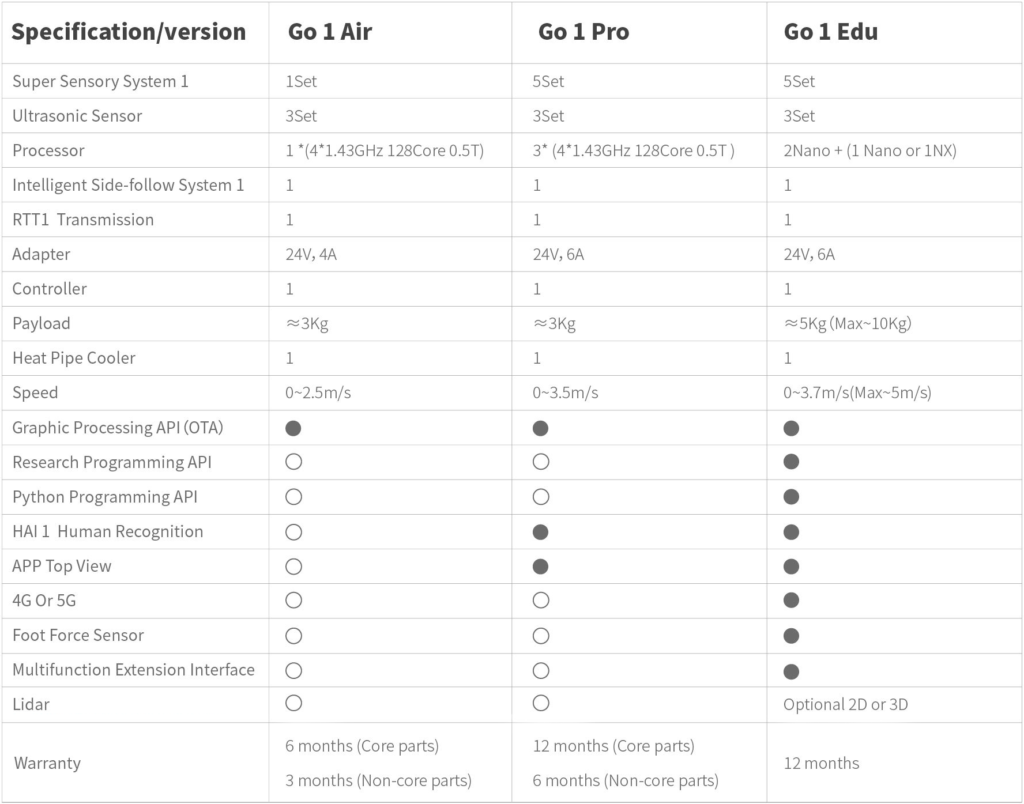 Intelligent Side-follow System.
Built-in Powerful AI.
Super Sensory System.
Unitree Go1 features
Light and Compact
Weight: 12 kg
Size (Folded): 0.588 *0,29*0.22m
High Performance
Max speed: 4.7 m/s (17km/h)
Intelligent Side-follow System
Adopt Patented Wireless Vector Positioning And Control Technology
The robot walks alongside its human master within sight of the human,which is much better than the conventional following mode. Besides, the human-machine interaction is both
harmonious and safe.
No need to worry about the robot since it's right beside you.
Capable of helping robot choosing a better route in the complex environment.
Super Sensory System
Full View Coverage
5 Sets Fish-eye Stereo Depth Cameras + Ai Post-processing + 3 Sets
Hypersonic Sensors
Lens Angle 150×170°
Built-in Powerful AI
16 core CPU + GPU(384Core, 1.5TFLOPS)
For comparison, the Nvidia TX2 only has CPU (4 cores)
+GPU(256Core, 1.3TFlops) with price at 468+ dollar.
ISS and SSS Function Cooperatively
Strong & Reliable Power System (Flexible Adaptive Joint)
New Power Joint With Super Lightweight
Low Noise and Long Life
Heat Pipe Cooling System Built in The Knee Joint Motor

Body/thigh joints C1-8: 520g 23.70N.m
Knee joint C1-8×1.5ratio 35.55N.m;
APP
Use the robot's own multiple cameras for multi-eye vision fusion. So as to open the God's perspective of remote
control operation of the robot. It makes remote operation within the beyond visual range as easy and convenient as
being on the spot.
#FunFact: Check out our robot dog called Bisgi
Our robot dog Bisgi is adventuring in TikTok as @BadProbotDog.