We make production equipment and test equipment for special needs and supply automation to all industries. We do projects in cooperation with customers with the goal of user-friendly equipment and solutions.
Dispensing equipment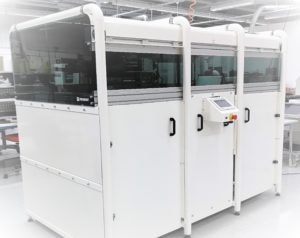 We designed and manufactured production equipment for sheet metal processing and liquid dispensing. Transparent films as sheets are introduced into the device in a transport unit, from where they are automatically transferred to the suction table film by film for dispensing the liquid. The user interface and control were implemented with Beckhoff Automation's Twincat 3 logic. The equipment is controlled by G-code.
Device features:
- Frame and functionality
- Logic Twincat 3
- Membrane treatment with suction cup grippers and xyz mover
- Control with G code
Sleeve machine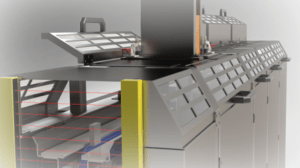 We made a customized packaging machine for the production line to place cardboard wrappers on top of boxes. The machine pushes the pre-glued cardboard wrap over the food package and the finished sales package proceeds to the next step on the line. This hardware is made to pack the customer's two different sized boxes of into dozens of different wrappers.
Device features:
- Frame Stainless steel
- Sleeve setting / Run
- Loading the cardboard wrappers to the rack on top of the machine
- Logic: Beckhoff Twincat 3
- Options: Machine vision inspection of packaging / labelling, integration of accessories, eg printers.
Testing equipment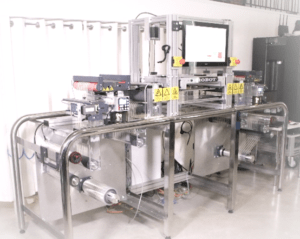 We manufactured from-reel-to-reel equipment (TesLa 2 ™) for a partner in Oulu to test printed electronics. The device processes the web from reel to reel, keeping the film tension stable and using machine vision to guide the test object to the area required by the test equipment. The film is stopped at a test site where the functionality of the printed electronics is tested on the customer's hardware.
Device features:
- Moving the web from reel to reel
- Machinevision alignment
- Logic: Beckhoff
Film tester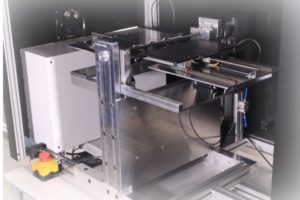 Product testing is often a topic of our machine construction projects. This machine, that we designed and build, tests the resistance of the film to stress. The machine tests the effect of the folding movement on the durability of the film-like material. The movement is fast and works in the accuracy class of micrometers. The filn is attached to the device and the stress is tested in long lasting experiments in which the movement is repeated tens of thousands of times without a break. The machine keeps the film tension constant and achieves the desired high level of accuracy of the paths. These are at the core of our special expertise. The control interface was made to serve the customer's own user interface.
Device features:
- Product testing
- High precision
- Speed and accuracy
Touch screen tester
The touch screen tester was designed as a simple solution to the customer's need to perform testing in a small space and with moderate test batches. The design and control of the tester was made according to the customer's needs and the compact tester was delivered to a customer in Oulu.